Previously I've come down a little hard on Google over ad-fraud but the good thing is that we're always able to help customers claim back a large portion of money. Today I'm going to talk about ad-fraud or "accidental clicks" from Bing Ads, which comes in the form of "keywordblocks.com". This is hard for me to do because I am also the instructor for the Bing Ads training course on Linkedin, however as I always stated: my clients' budget comes is the first priority because without advertisers who trust us, PPC would be a dead cat.
Yes, in the PPC course for Bing Ads (Essential Training) I did cover the quality measures and the Microsoft pledge to take ad fraud seriously, with precise steps you should follow to report ad fraud, but given the results at hand from a recent campaign, I want to discuss this a bit more to help you take appropriate action. The short answer to your problem is this:
Step1: Stopping it is easy, you just need to opt out of syndicated search partners. **But that might not be enough – I feel that since this has been going on since 2012, it's time to get the regulators or Microsoft ethics board involved.
Step2: Submit a refund request with proof (or contact me for information on how to do this).
Great now the long answer, starting with where most people get caught out – and how to bypass it without shutting down your BingAds account:
In the ad distribution options, if you allow BingAds to display your ad on sites that are "SYNDICATED", which is the default option, you're likely to get a whole lot of fake, bot or "accidental" clicks from something called "keywordblocks". In the image below, you can see the red rectangle indicates the default setting, whereas the green rectangle indicates the preferred setting that will do away with invalid low quality traffic.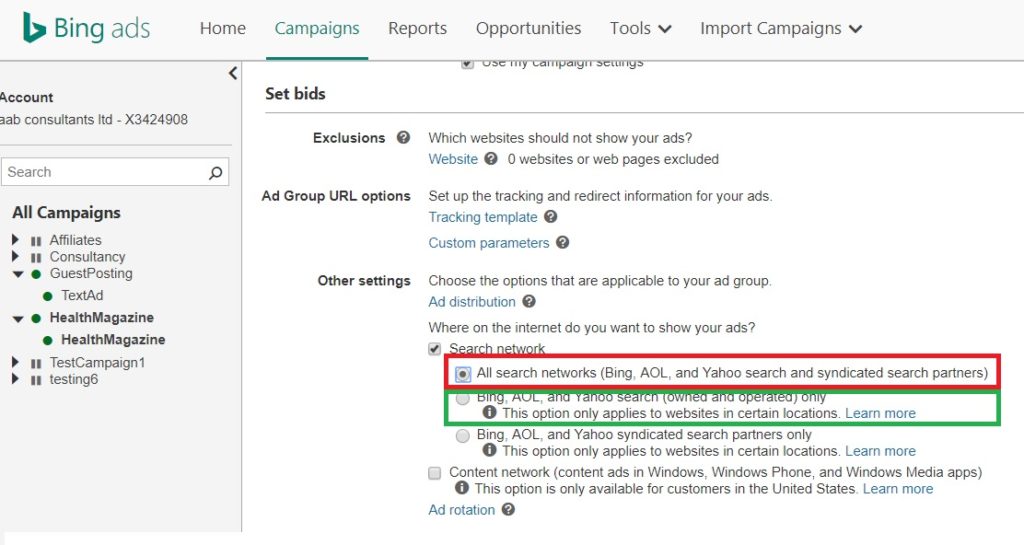 If you opt for the above setting and you use Google Analytics, it will show you precisely where the bounces occured. The metrics that matter for me, in order to measure this include: "source/medium", "city" and "bounce rate". Where the bounce rate is 100% repeatedly and the average session duration is 0.00's – then you KNOW that there is a smally rat and it's refund time.
To back up the above with analytics, please see the screenshot below: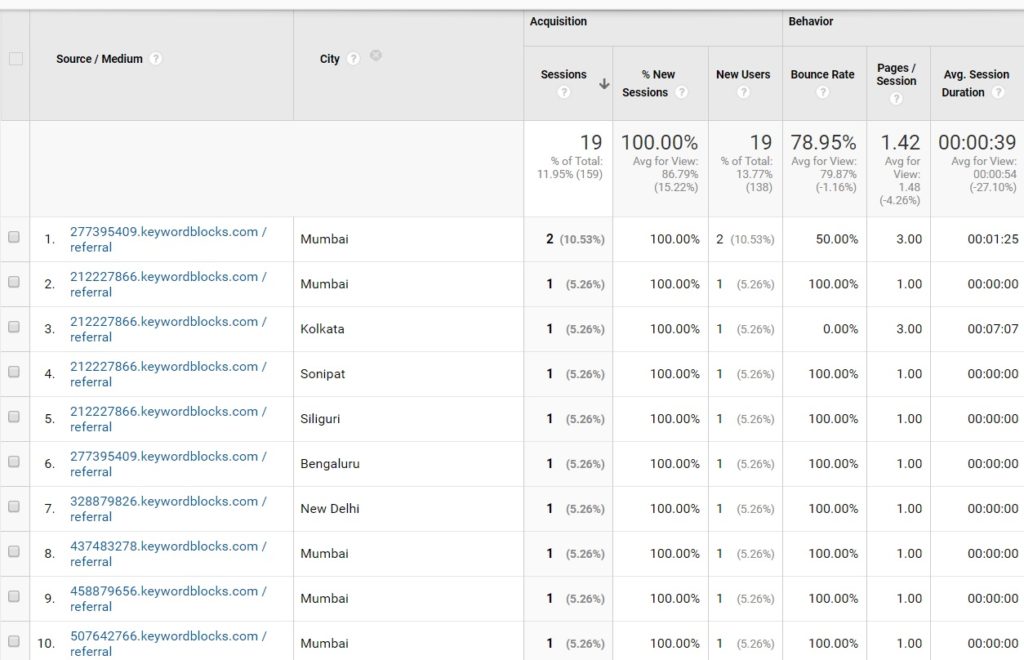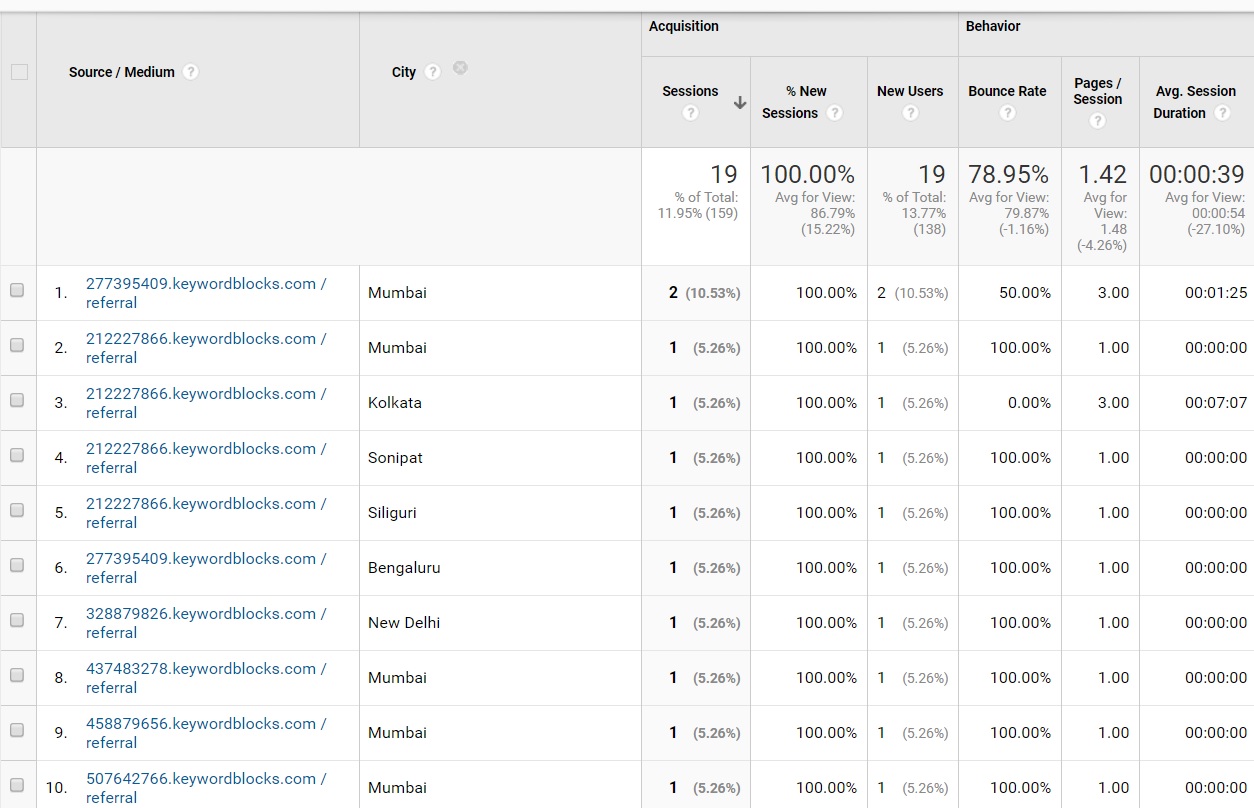 Now at this point in time, I don't need much more information – knowing that the bounce rate is 100% and time on-site is 0.00 for many visitors, is sufficient for me to call it ad-fraud and to raise the refund alarm with Bing Ads.
What exactly do we think about ad-fraud in the industry? Here are my thoughts:
The industry is profitable without it: We don't NEED to run ad-fraud to print more money. There is enough profit to be made legitimately, so WHY risk alienating our advertisers?
Trust is everything: If advertisers cannot trust a platform, eventually all their money will go into guest posting and remarketing to specific lists – and PPC/Search will take a hit, again: why risk it?
The EU and FTC needs to do more: Don't fine Google for "abusing it's dominance" but let them off the hook for ad fraud and accidental clicks. Just because I'm reporting it, I'm getting a refund for my clients – but what about the $billions that were not refunded by those who do not know how to conduct a site audit for ad fraud.
Concluding thoughts on ad fraud with Bing Ads & Keywordblocks:
Ad fraud or "accidental clicks" is harmful to the advertising industry and it has nothing to do with "fake news". It has to do with fake clicks where users never intended to visit a website: whether it is a bot, or an accidental click: it is invalid and therefore fraudulent to charge the advertiser! I hope that Microsoft will take this seriously and close up this loophole rapidly: Just because "everybody is doing it", does not mean that BingAds should allow this to persist.