Cumfy chairs for long hours are not just for dentists, surgeons and architecs – but indeed for all officer workers. Can't think of a better tool for a digital marketer than a "Peak Office Chair".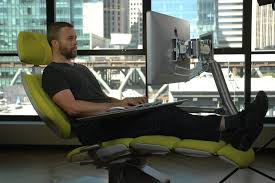 It's not a new trend either: "modern ergonomics emerged as a result of World War II, when workers' comfort both in factories and in the cockpit could save lives. The task chair only became an object of high design in the 1970s–in 1976, the designer William Stumpf created the Ergon chair for Herman Miller, popularizing the concept of the dedicated office task chair with cushy molded foam with back support. As computers became an integral part of the workplace in the 1980s, task chairs came along too, reaching an iconic form with Herman Miller's 1994 Aeron chair, which promised both comfort and status with its expensive, ergonomic engineering."
Today, companies are more concerned than ever with how to keep employees happily typing away. Yet, as research has shown that sitting down all day every day is terrible for your body (and even exercise doesn't undo the damage), the task chair's role has evolved to make room for standing desks. Both are now staples in many offices, and many variants, like treadmill desks, have also become more common.
Let's face it: With people like Marissa Mayer who turned against working from home, we need a little something to make people happy again. What better than a more comfy recliner that can host multiple screens? I'd imagine a similar setup in a Tesla self-driving vehicle too anytime soon.
So perhaps it's time you give it a try or hit up some reviews about the peak office chair to see if you can make your 10 hour day feel like a 4 hour day? I've done it before by turning a penthouse with awesome views into an office – this time I'd do it simply by adding a peak chair in a spacious location with some seaviews.
Watch this video below to get up to speed with the Altwork station – you'll love it!