What is SEMRush?
SEMrush is a tool that has been created with the sole intention of helping online platforms optimize their sites for search engines. The tool has grown from its inception in 2008 and the company states that they now boast a large database of over 7 million users and has become one of the most popular SEO tools around.
SEMrush provides users with a number of useful features. For example, the system can provide keyword suggestions, how likely you are to rank for certain search queries as well as suggest websites that would be suitable for you to approach for backlinks. In this article we will provide an in-depth review on the pros, con's, features and other insights for SEMrush.
Why are SEO tools important?
Search Engine Optimization can drastically transform how you grab your audience's attention and how your leads convert into sales. The internet is crowded with countless domains and you therefore need to find a way to set your site apart from competitors and the rest of the noise.
No matter how helpful and well put together your website is, if you are not receiving enough foot traffic, it all becomes irrelevant. SEO works hand-in-hand with search engines and SEO tools help businesses to stay at the top of their game by increasing their online visibility. The size of your business does not matter, SEO proves just as useful for startups as they do for big corporations.
SEO tools provide an inexpensive way to expertly market your site. By increasing your search engine ranking, you are able to improve the number of customers that browse your site. By taking out the guesswork, these tools provide efficiency so that you have more time to spend on planning and improving your products and campaigns. They let you work smarter and not harder, so not only are they budget friendly but they also help save you money in the long run.
SEMRUSH REVIEW
Try out SEMRush for free to see why we prefer using this tool. The SEMRush SEO tool works as an all-in-one by helping users find sets of lucrative words that will enhance performance as well as visibility. SEMrush is versatile and provides a wide array of tools and features which helps to justify the amount that users will pay to use the tool. However, there is a limited-time free trial that is available that will allow you to ascertain if this is the right product for you.
As one of the oldest SEO tools available on the market, SEMrush has been able to grow with their customers and improve with constant updates and changes that improve user experience.
The tool is a "software as a service" tool that lets you look for the keywords that are targeted to your audience. Users can similarly review their websites and correct any problems, if they do arise. This will in-turn improve the site's organic reach. Furthermore, SEMrush provides a rather comprehensive competitor investigation to help you understand your competitors' success.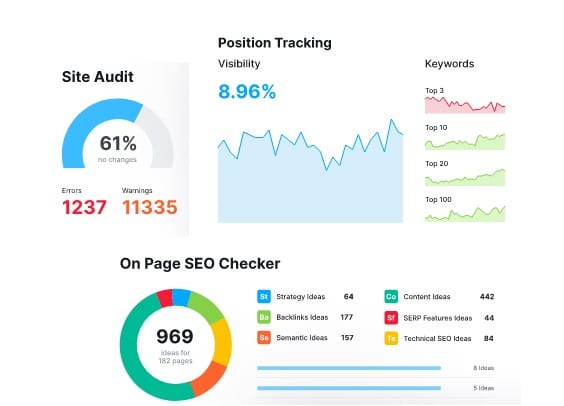 SEMrush Features and Advantages 
The tool is extremely feature rich, some of the standout features include: 
Keyword Magic Tool:

This tool truly is magical with aiding in keyword research. Whilst there are other similar tools that can be used, the SEMrush Keyword Magic Tool is one of the most well organized and helpful from the lot, especially when you are at the start and still unsure about how to narrow it down.

SERP Feature Filter:

This feature proves helpful in a variety of scenarios. The feature can be used to check if your implemented review schema is showing up in SERPs. And allows you to monitor if you have lost or gained an answer box, which can be helpful in determining the cause for a drop or spike in traffic. 

Keyword Gap Tool:

This tool allows users to quickly understand which keywords are shared between you and competitors. It also highlights the gap in keywords that your competitors are using but you may have overlooked. Users can compare up to 5 domains and will be given metrics for specific keywords, MSV and position.
Advantages of SEMrush
SEMrush measures featured snippets far better than other tools that are similar to its kind. And the Domain history allows users to monitor the manner in which the market flows. This feature is especially useful in helping users to save on the unnecessary expense of using your funds when the timing is not optimal. The fact that you can determine and compare your standing with that of competitors is especially useful to help you to evaluate the productivity of your content.
Disadvantages of SEMrush
Whilst the tool is an overall asset to businesses it does have a few drawbacks. The Keywords Difficulty tool can be unreliable and the price of SEMrush is marginally higher in comparison to competitors. The tool is also not very beginner friendly and can be challenging for new users to pick up and understand since the vast amount of features can be overwhelming. 
Do SEO Tools Replace SEO Professionals?
Whilst SEO tools are great, they are often used in addition to SEO experts. Experts are able to distinguish catchphrases, ensure that your site maintains a generally high score and are able to coordinate their situations accordingly. Most SEO experts incorporate SEO tools to ensure that they are able to provide the best results to clients, which saves time, resources and energy. Since most SEO tools require a level of competency, it is recommended to seek the help of an expert if you are unsure of how to go about the process.
Conclusion On SEMrush
This most definitely is an all-in-one tool that will benefit SEO experts and digital marketers. However, the feature rich tool can be intimidating and tricky for armature users that do not already have a proper grasp on the industry. However, if you understand the industry and have a grasp on the application of this tool, it can be utilized to optimize and create SEO, Social media campaigns, PPC as well as aid in Content Marketing.
Whilst there are a variety of options that are available , SEMrush definitely stands out as a must have tool for online marketers.
Suggested reading: