Twitter Verification Service
 Twitter just re-opened their verification. Use this service to boost your notability in the media. Use the same PR for channels like TikTok and Instagram
Twitter re-opened their verification program: Now you can apply directly for Twitter Verification. Our professional editorial team and PR experts will increase your visibility on news channels. This is a key requirement before applying for Twitter Verification. Fast discreet PR notability service that is equally valid for Instagram, TikTok and Youtube verification.
Already have a popular legitimate Instagram account with many followers? Twitter re-opened their verification and you can now apply! See if our special PR support service is for you:
The preparation for Twitter verification is crucial before application. Key requirements are to be known on popular news channels. If you already have sufficient media visibility, our service may not be needed. If you lack media visibility: we can help through a combination of written interviews, editorial news articles and official press releases. News articles can include photos, videos and direct quotes, prepared by our specialist editors.
Twitter verification in 3 easy steps
What is Twitter Verification?
Celebrities, Sport stars, brands and many entities require Twitter Verification. Having a verified account on any social media platform is almost the same as having a famous best friend. It's like saying to the world "hey look over here", but in a more subtle and less annoying way. Like many other social media platforms, Twitter has started offering verification services to its users. The great thing about verification services is that it not only provides safety and security to your account or profile; it's a way for Twitter to ensure the account that's being used is of authentic ownership by you, or a company. To have your honorary blue badge would ensure that you can have access to different notification and direct message settings, and also it will link the public with the real owner of every account.
The great thing about Twitter is that it's a convenient and easy way to read what people are getting up to. If you enjoy politics, religious scriptures or what the latest trends are; Twitter gives you all of that in 280 characters. Although it's a great way to quickly stay connected with the outside world, Twitter has over time been experiencing more and more parody accounts being created. If you don't know what a parody account is, search any person or company and you might be surprised to find tens of different accounts linking to the same thing. The verification services make it easier to cancel and ignore these "fake" accounts, and drive more traffic to those accounts of true authenticity. Ultimately, after Twitter announced they will allow anyone to have a verified account help to ensures you will be in touch with high-quality profiles and content. Around 187, 000 of 320 million monthly Twitter users are currently verified, which might seem slim comparing the vast expansion of this platform.
Twitter, like Facebook or Instagram and now also LinkedIn is a great way to sell and market yourself. You can network with various companies, entrepreneurs, colleagues and anyone in your industry. Having Twitter verification will truly set you aside from other accounts, as it will showcase your true value and influence in the community; but also your career. Verification services are a great way to get your followers and following involved in something bigger or more important than being on top of the latest trends. The platform allows you to quickly spread and share information of something you want everyone to be part of. It's a way to form an online community of people, who can contribute to the collective good of the digital age.
The latest Twitter requirements for Verification:
Currently, Twitter verification is ON HOLD, however they now announced new requirements – and thousands of influencers are actively getting ready to meet these requirements the moment Twitter resumes with verification. 
These are the requirements stated by Twitter: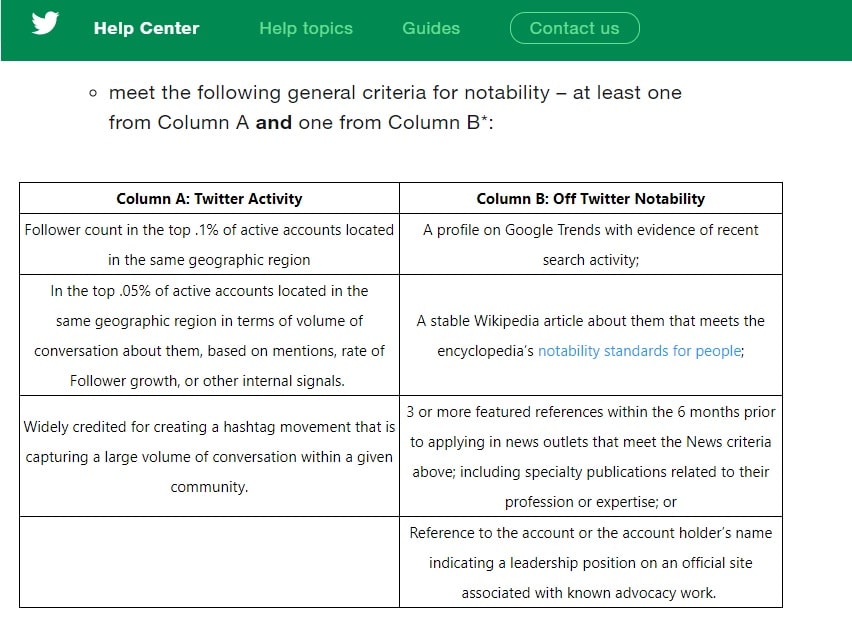 If you meet most minimum requirements but lack featured news references for the sake of notability, our service can help you achieve that quickly. 
The missing piece of the puzzle:
For many applicants, insufficient media referencing is the biggest problem. This is exactly where the Sitetrail team can make the difference. We'll get you into the media through our relevant connections and ex-journalist writers.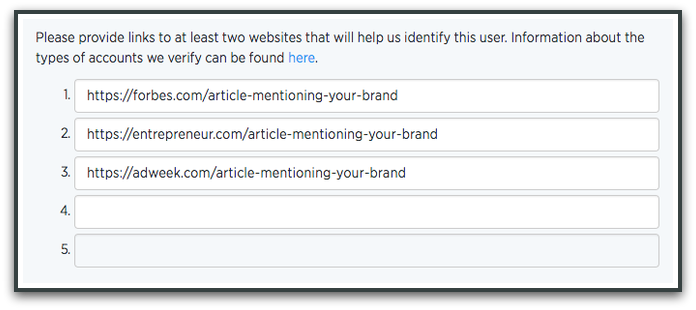 Social Media Verification Pocast - Meet our Team
Gain an in-depth understanding of Social Media Verification by listening to our latest podcast with the Sitetrail team.
Explore the benefits of Twitter Verification
Twitter verification: Frequently asked questions
Twitter Verification Process: How to get verified on Twitter
IF YOU HAVE SUFFICIENT PRESS COVERAGE – You can simply do this without our assistance and save money. The next step is to proceed with the only legitimate way to get your account verified: To request a verification badge from TWITTER itself. Do not hand over your login details for someone else to do this, do it yourself from your OWN IP and regularly used device.
Follow a methodical but simple step-by-step process once we helped you gain publicity.
Step-by-step verification is quite easy:
First, be of public interest. Let's explain this better:  It is good to be published and featured in articles boasting your name all over the internet. This is something our team can help you with.
BEFORE APPLYING: follow some protocols beforehand; this can be and is not limited to setting your profile and tweets to public so that anyone can view it. Once you access the Twitter Verification process, there is a step-by-step guide that will help you. Other things that you might need to do are to complete your profile to its best, add your birthday, add a verified phone number and also confirm the email address connected to your profile.
Personal profiles: Note that if you're applying for verification of your personal profile, and not that of a business or company, Twitter will require you to provide full personal identification. This will be anything like a driver's license or a passport. It's not always certain who finally decides why your profile should get verified, but having the minimum requirements on your profile and even additional information or published work will help speed up the process. Twitter only ensures that your account is of public interest, so you might want to get some articles written and published on yourself, or perhaps share valuable content and information that will be beneficial for the general public.
Twitter wants its users to access high-quality profiles and accounts at all times, and connect everyone with a broader audience. Social media influencers have done a great job of posting and sharing their spectacular lives with their following, and it's been beneficial for them. It's great to share your experiences and content with a big following, but make sure it's of high-quality and also is original creative content.
Remember that Twitter has updated its policy to not only verify accounts that are official, such as celebrities or sports stars, and have given the general public the opportunity to also have their personal accounts verified. This initiative will help reduce abusive behaviour on the site but ultimately will give you the chance to be deemed the sole owner of your personal or business account. The problem with buying fake TWITTER followers is that people may sell you "bot" followers from fake accounts. 
If you have genuine Twitter followers and now require sufficient news coverage before applying for verification  – then this service is the perfect solution. Note that you may be required to obtain more PR or have other assets like a Wikipedia page too. 
Order our TWITTER Verification service now
 No shortcuts, only proven PR expertise. Trusted by celebrities and HNWI's worldwide